At West Coast Restoration we take pride in bringing the natural beauty back to your home through our thorough restoration and repair process.
The first step is to discuss and assess your concerns/goals and determine the course of action. The next steps are:
We use media blasting to effectively remove all dirt, discoloration, fungus and mildew caused by failed finishes and poor maintenance
We then conduct an inspection to ensure that all foreign matter has been removed from the surface
Perform any log repair and replacement necessary
Chinking if needed
Apply a two coat sealer and stain that include, but are not limited to, U.V. sun block, mildewcides and water protection
All windows will be protected and landscape covered during this restoration process.
If you have a weather or rot damaged deck we will help you restore it using the techniques we use to restore the rest of your log home. It's BBQ season year round when you have a great deck! Call us today!
Timber Frame/Post and Beam Repair A sound structure is the basis of any building so it is important to keep yours in good repair. When damage occurs or a building is crumbling due to age you can count on West Coast Restoration to restore the integrity of your timber frame through repair and replacement of posts and beams.Please contact us for an estimate! (360) 961-3220 or billfinley@westcoastrestoration.com
Historical Restoration We have the specialized skills needed to restore your historical structure. From carefully dismantling a 100 year old frame for restoration and repair, to building a new foundation to re-establishing the structure, your building will look as good as new while preserving its antique quality. Please contact us for an estimate! (360) 961-3220 or billfinley@westcoastrestoration.com
Crane Capabilities If you need work done on a hill or water overhang you have come to the right place! We have cranes to reach the tough to reach spots; ensuring work is completed on every corner of your home.
Call us now (360) 961-3220 or e-mail us at billfinley@westcoastrestoration.com to discuss your project needs!
Click here to view a video of the restoration process.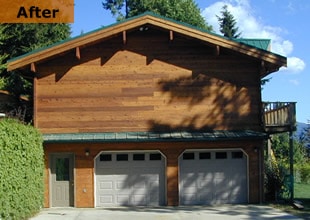 Click here to see more before and after pictures